OpenVAS adalah solusi open source yang paling handal di area vulnerability scanner dan manajemennya. OpenVAS menyediakan berbagai layanan dan tool yang powefull dalam melakukan vulnerability scanning.
Berikut arsitektur dari OpenVAS:
GSA menyediakan iterface berbasis web untuk melakukan administrasi
CLI menyediakan administrasi berbasis command line interface
Greenbone Desktop Security menyediakan akses manajemen berbasis desktop
OpenVAS Manager adalah broker yang menerima berbagai instruksi dari GSA, CLI dan Greenbone untuk diteruskan ke Scanner.
Scanner adalah komponen yang mengeksekusi scanning ke target
Instalasi
Tambahkan dulu OpenVAS PPA repo:
add-apt-repository ppa:mrazavi/openvas
Lakukan update dan upgrade:
apt update -y 
apt upgrade -y
Kemudian install dua package berikut:
apt install sqlite3 openvas9 -y
Kemudian enable redis unix socket saat halaman pilihan muncul:
Pilih YES.
Install package berikut agar report dalam bentuk PDF bisa dihasilkan dengan ciamik:
apt install texlive-latex-extra --no-install-recommends -y 
apt install texlive-fonts-recommended --no-install-recommends -y
Install openvas-nasl utility agar kita bisa menjalankan script yang menscanning target:
apt install libopenvas9-dev
Update network vulnerability test database:
greenbone-nvt-sync 
greenbone-scapdata-sync 
greenbone-certdata-sync
Restart OpenVAS Scanner, Manager, dan Security Assistant:
systemctl restart openvas-scanner 
systemctl restart openvas-manager 
systemctl restart openvas-gsa
Jalankan perintah berikut untuk mengecek apakah OpenVAS proses sudah running:
ps aux | grep openvas
root    18390    0.0    0.3    146072   3500 ?    Ss  10:59   0:02  openvassd: Waiting for incoming connections 
root    18418    0.0    0.0     93312    536 ?    Ss  10:59   0:00  gpg-agent --homedir /var/lib/openvas/openvasmd/gnupg --use-standard-socket --daemon 
root    18521    0.0    0.6    202844   6172 ?    SL  10:59   0:00  openvasmd
Sebelum melakukan scanning, rebuilt NVT cache:
openvasmd --rebuild --progress --verbose 
Rebuilding NVT cache... done.
Untuk mengeksploitasi fitur OpenVAS secara maksimal, kita bisa menginstall tools tambahan, misalnya openvas-check-setup. Dowload ke PATH dan jadikan executable [Opsional]:
wget --no-check-certificate https://svn.wald.intevation.org/svn/openvas/branches/tools-attic/openvas-check-setup -P /usr/local/bin/ 
chmod +x /usr/local/bin/openvas-check-setup
Jalankan perintah berikut untuk memverifikasi instalasinya:
openvas-check-setup --v9
openvas-check-setup 2.3.7 
Test completeness and readiness of OpenVAS-9 

Please report us any non-detected problems and help us to improve this check routine: 
http://lists.wald.intevation.org/mailman/listinfo/openvas-discuss 

Send us the log-file (/tmp/openvas-check-setup.log) to help analyze the problem. 

Use the parameter --server to skip checks for client tools like GSD and OpenVAS-CLI. 

Step 1: Checking OpenVAS Scanner ... 
... 
Step 10: Checking presence of optional tools ... 
OK: pdflatex found. 
OK: PDF generation successful. The PDF report format is likely to work. 
OK: ssh-keygen found, LSC credential generation for GNU/Linux targets is likely to work. 
WARNING: Could not find rpm binary, LSC credential package generation for RPM and DEB based targets will not work. 
SUGGEST: Install rpm. 
WARNING: Could not find makensis binary, LSC credential package generation for Microsoft Windows targets will not work. SUGGEST: Install nsis. 

It seems like your OpenVAS-9 installation is OK.
Lanjutkan dengan login ke admin web dashboard, username/password default adalan admin: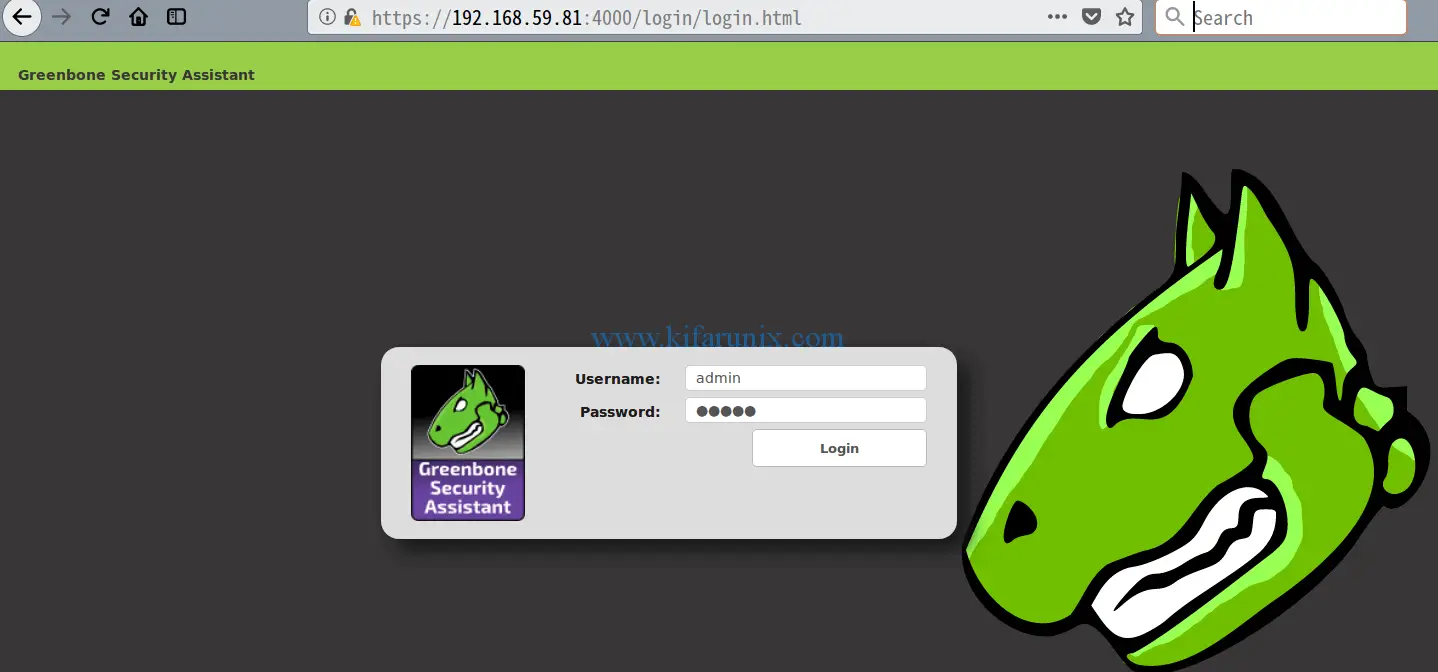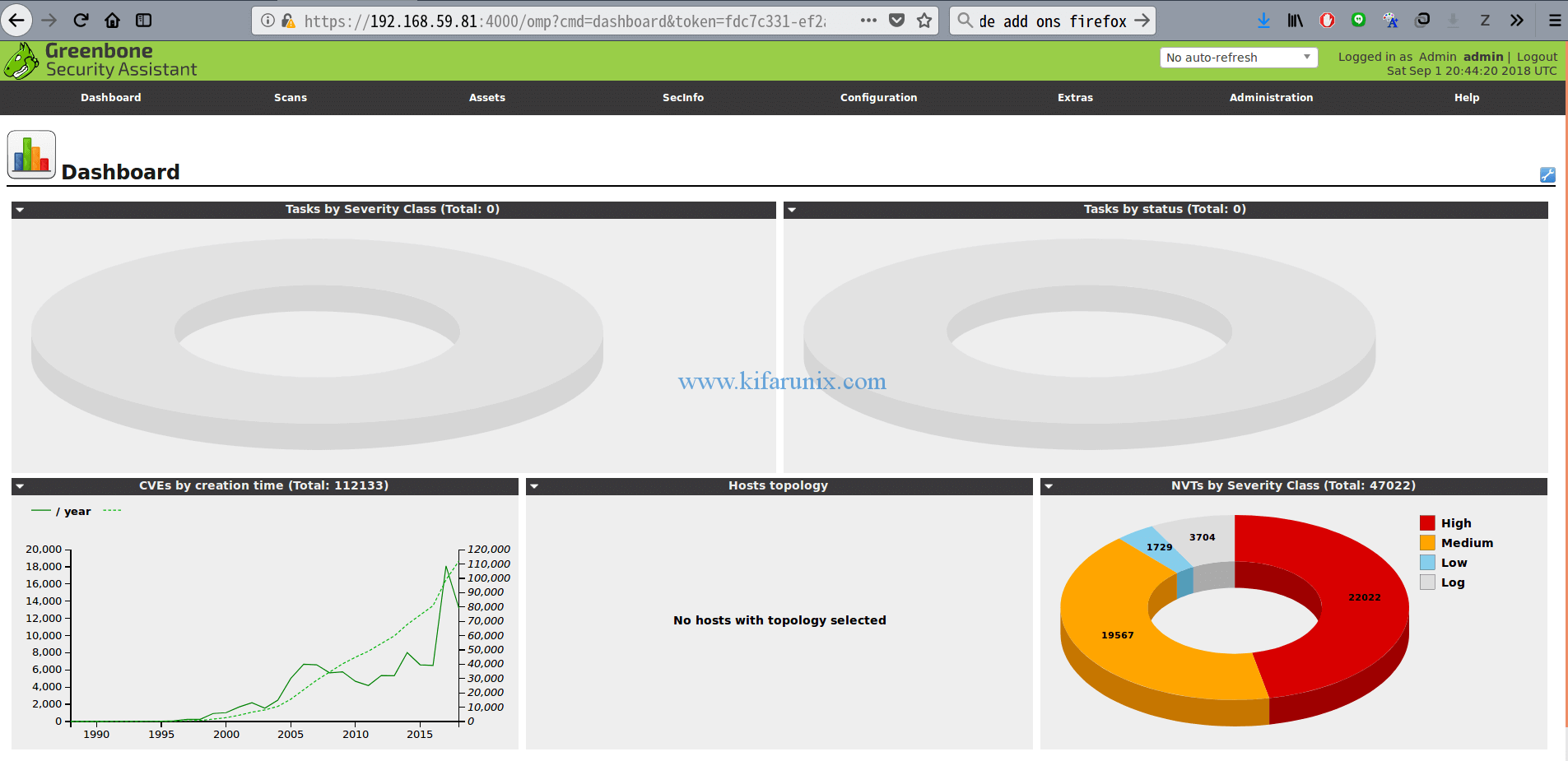 Anda telah berhasil menginstall OpenVAS di Ubuntu 18.04. Pada artikel selanjutnya kita akan menambahkan target dan scan untuk melakukan vulnerability assessment.